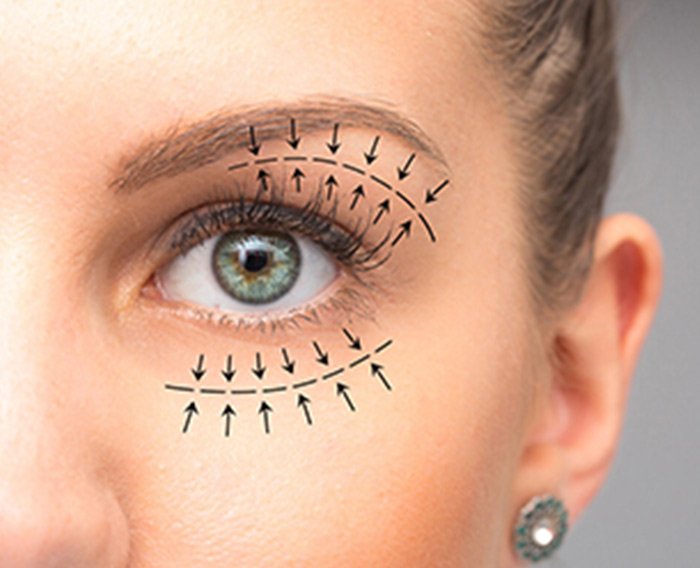 Hirurgija kapaka Blafaroplastika
Blepharoplasty is a type of surgical treatment of the skin of the lower and upper eyelids, with the help of which age-related changes and aesthetic defects (fatty hernias, changes in the section of the eyes) are corrected
Types of blepharoplasty
Upper blepharoplasty – surgery on the upper eyelid. After the operation, the look becomes wider and more expressive. Lower blepharoplasty is performed to correct age-related changes in the skin flap (fat bags will be removed). Transconjunctival blepharoplasty eliminates fatty hernias under the eyes and in most cases is intended for young patients. Cantopexy – removes sagging skin due to a decrease in elasticity and makes the look more fresh and expressive.
Indications
Overhanging or drooping of the upper eyelid;
Excess hernial sacs in the medial corners of the eye;
İmpaired tone of the circular muscle of the eye;
Excess skin flap on the lower eyelid;
Lowering of the lower eyelid, etc.
How is the operation?
In most cases, blepharoplasty is performed under general anesthesia. During the operation, a small incision is made through which excess skin or adipose tissue is removed. After this, intradermal sutures are applied. Do not be afraid, over time, they become barely noticeable. About the fifth day after surgery, the sutures are removed. For speedy healing, special ointments are used that reduce swelling and redness of scars.
What are the risks?
Possible complications after blepharoplasty:
Ectropion. (eversion of the century)
Subcutaneous hematoma.
Tearing.
Diplopia.
Dry keratoconjunctivitis.
Retrobulbar hematoma.
Postoperative period
The rehabilitation period depends on the individual characteristics of the regeneration. . Immediately after surgery, a tight dressing is applied to the eyes, which is removed after 4-5 hours. After 5-7 days, the sutures are removed, during this time, as a rule, swelling and postoperative bruises pass. Bruising can remain in the operated areas for longer – 10-30 days. You can leave the house immediately after removing the seams .. First of all, it is necessary to avoid exposure to direct sunlight. . Secondly, the rejection of intense physical activity and bad habits. It is also worth excluding a trip to the bathhouse and sauna.
Opening Hours