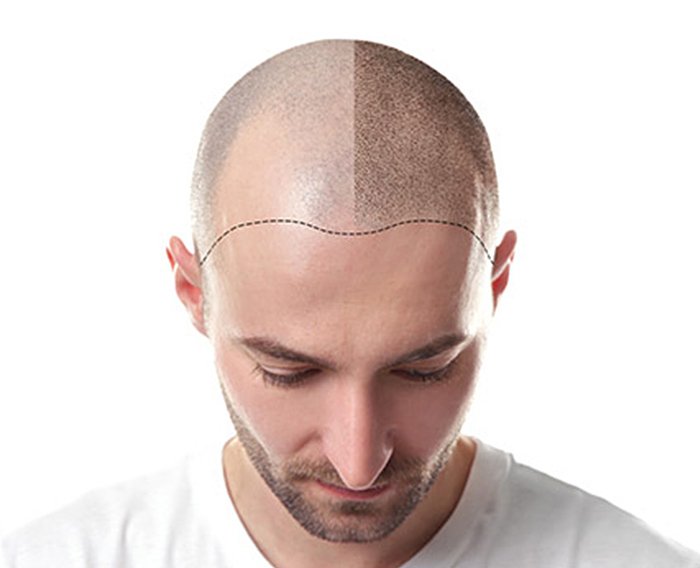 Simulacija kose
Hair simulation, unlike hair transplants, is where hairs are simulated in the scalp via special tattoos involving scalp micro pigmentation. This is a less common procedure but SALUSS provides it to visitors from across the world here in Turkey and it is an option for those who do not want to take a surgical route to treating hair loss.
What are the advantages?
The advantage is the highly affordable cost and all-inclusive treatment package. Both males and females of all ethnicities can undergo this procedure and the success rate is very high. Those who wish to undergo a non-surgical procedure can always opt for hair simulation.
What are the disadvantages?
The results will begin to fade during the year after your procedure. This means you will have to go for touch-ups. If you want to change your hair colour then you must have another session of hair simulation to match it.
What are the results like?
While results are permanent, yearly touch-ups are required to stop fading and hair colour changes will be addressed with another simulation. You do not need to shave your head however, just like hair transplants, a shaven head will help the procedure be performed more effectively and make recovery easier.
What are the side effects and risks?
Side effects are only temporary and include minor swelling, minor bleeding and redness. Scars are a minimal risk in hair simulation.
What is recovery like?
Recovery takes roughly the same time as a hair transplant, which is 1 to 2 weeks and the results are nearly instant. Day by day recovery instructions and assistance are provided by your SALUSS coordinator and team. Have a look at some before and after photos here on our website, Instagram and Facebook. We provides full medications and aftercare with your treatment and a touristic stay at a seaside hotel in Antalya right by our clinic, all included in the cost. Aftercare is a priority to us and so we will always be here to provide the necessary support you need wherever you are.
Can I get a free consultation?
Absolutely, we pride ourselves in giving you the proper and right advice whenever in need. Be sure to get in touch through our website, WhatsApp or social media for a free consultation, treatment plan and quote.        
What should I do before my hair simulation?
Similar to hair transplants, avoiding alcohol and cigarette consumption will help decrease bleeding and if a numbing agent is used, then pain too. Avoid high pressure activities and blood thinners for at least a week and keep your scalp clean and free of dandruff or oils.
Who is ineligible for a hair simulation?
If you have multiple chronic illnesses like high blood pressure, diabetes, high blood sugar and asthma then you may not be eligible for the procedure. If you suffer from skin diseases such as hyper pigmentation or eczema, then be sure to contact your doctor prior to coming here.
What does the process involve?
As shown in your treatment plan, there will be a schedule for treatment and how things will be organised. Your first day will involve a transfer from the airport to your hotel or the clinic for consultations. The procedure can begin any day you wish. After treatment sessions are complete, we will come for all the necessary check-ups and provide instructions on how to recover. Once you are fit to fly home, we will transfer you back to the airport on time for your flight.
What medications and products do I need?
SALUSS will provide all the necessary prescriptions and medications required for recovery during the procedure so you will not have to worry about additional expenses.
What should I avoid during recovery?
Avoid wearing tight headgear and hats to avoid damage to the simulated area. Avoid strenuous exercise for 10 to 30 days. Try not to cause any sudden trauma or contact on the area. Make sure to avoid any kind of hair care products for at least 1 month. Do not shave or use a machine shaver for at least 1 month.
What is the cost?
The procedure costs around 300 to 1000 GBP here in Turkey and abroad. Costs can vary depending on the specialist you hire and if certain extras such as medications and accommodation are provided
Opening Hours